onOffice working time recording
With onOffice work time recording you can keep an eye on your employees. With this integrated onOffice smart solution you can cut out wasteful recording of all times with data sheets.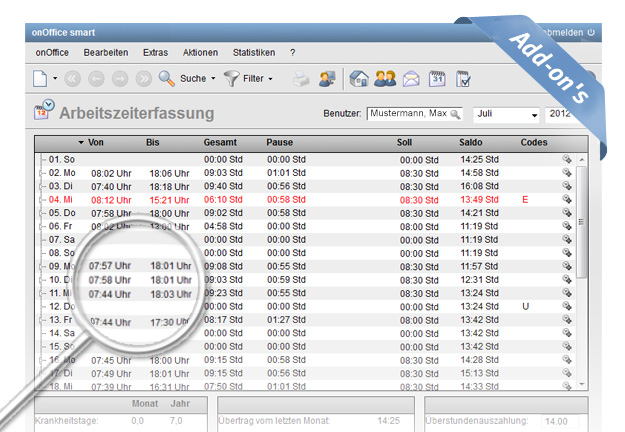 at a glance
uncomplicated control of employees
clear planning of resources
saving potential for accounting
straightforward and correct ascertainment of overtime
clear time recording
Keep an overview of working hours and with a click see the start and finishing times of each employee. In onOffice smart user license users can start and stop their working hours. Furthermore determine what breaks your employees need in order to comply with current statutory regulations.
With onOffice smart working time recording it is possible to automatically record overtime which way you can decide which employee needs relieve in regards to their extra work.
In addition to this you are provided with a comprehensive overview of all relevant data including sick days, leave and residual leave as well as overtime giving you the possibility to optimize your resource planning within your broker office.
save costs
For further processing the data can be used as the basis for the payroll. This way you don't have to again ascertain and record the data consequently reducing your costs for accounting.